KLangsichten
Interdisciplinary project 2003 by students from the Technical University of Kaiserslautern and the Cologne University of Music in cooperation with the Department of Culture of the City of Kaiserslautern: Sound–Sights 311003 | Seeing music - Hearing geometry
As part of the project "KLangsichten 311003 | Seeing Music - Hearing Geometry", works were created that deal with the relationship between geometry and music in sounds, images and objects.
The theoretical and historical analyses of the relationships between geometry and music formed the basis for original creative works in interdisciplinary groups. Music was composed according geometrical-architectural concepts and geometrical images, forms and processes were developed after musical ideas. Geometrical forms are combined with the music into a kinetic, visual and acoustic work of art. Through such interdisciplinary art projects it is possible to experience scientific coherence in a sensual way. The combination of geometry, architecture and music enables a visual and aural approach to formal thinking of sciences.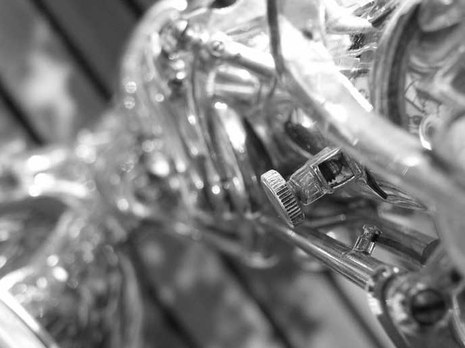 n addition to the regular seminar (compulsory elective for architecture students and interdisciplinary courses for mathematics students), a workshop for the two project groups took place in Whitsun 2003. The workshop took place in the Fruchthalle Kaiserslautern, in which the later results were then presented to the public in the form of a concert with objects and film projection on October 31, 2003.


The project group work was continued over the summer semester 2003 in parallel to the workshop at the University of Kaiserslautern and at the Cologne University of Music. Music was composed and geometric shapes were developed that fit and refer to each other. The results of the interdisciplinary project were named KLangsichten 311003. Musik sehen - Geometrie hören. finally presented to the public in the Fruchthalle Kaiserslautern in the event program of the cultural office of the city of Kaiserslautern.
A catalog has been published for the concert and the exhibition in the Fruchthalle Kaiserslautern:
Cornelie Leopold (Hrsg.): KLangsichten 311003. Musik sehen - Geometrie hören.
TU Kaiserslautern 2003. ISBN 3-936890-19-6
 
The KLangsichten project has also been published on DVD (ISBN 3-936890-53-6). The DVD contains a film and sound recording of the concert on October 31, 2003 in the Fruchthalle Kaiserslautern and the sound installations, film and image material from the exhibition as well as information on the development of the project. 
Cooperation partner: