Structural Architecture
On the actuality of a thinking between technology and aesthetics
A symposium on Structural Thinking in Architecture at the Faculty of Architecture at the TU Kaiserslautern 2010, initiated and organized by Joaquín Medina Warmburg, Architectural History and Cornelie Leopold, Descriptive Geometry, led to the book published by Transcript (in German language).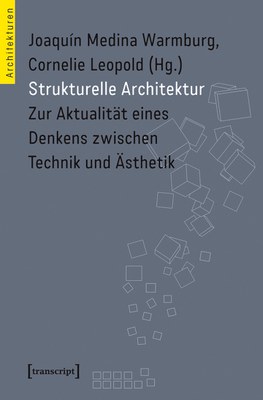 Joaquín Medina Warmburg, Cornelie Leopold (eds.): Strukturelle Architektur. Zur Aktualität eines Denkens zwischen Technik und Ästhetik. Transcript Verlag, Bielefeld 2012
with contributions by:
Joaquín Medina Warmburg, Cornelie Leopold, Hermann Edel, Mayka García Hípola, Claus Dreyer, Luigi Cocchiarella, Luc Merx, Angèle Tersluisen, Georg Vrachliotis, Matthias Castorph und Benjamin Dillenburger.
---
In the 1960s, structuralism developed into a new scientific movement with a claim to universal validity. Structural thinking also shaped a new scientific design, such as postulated at the HfG Ulm by Max Bense, Max Bill and Tomás Maldonado.
Today, structuralist approaches are taken up again with digital tools under the aspect of rule-based design methods. The book shows that structural thinking is still expected to give impulses for a close interlocking of different disciplines and explores the integration potential of structural approaches in architecture and product design.