Stone project at Marmomac
Participation with Stone on Stone - Digital Stereotomy – Hexagonal Interlocking System at Marmomac, Verona, Italy - 27 - 30 September 2022, part of MARMOMAC MEETS ACADEMIES, curated by Giuseppe Fallacara and Domenico Potenza
We participated with the project  Stone on Stone - Digital Stereotomy – Hexagonal Interlocking System at the fair Marmomac, Verona, Italy - 27 - 30 September 2022, part of MARMOMAC MEETS ACADEMIES
We showed results of the seminar "Stone on stone - Digital Stereotomy", conducted by M.Sc. Dipl.-Ing. Eva Hagen, Akad. Dir. Cornelie Leopold, Dipl.-Ing. Benedikt Blumenröder.
Video of the project (shown at Marmomac): https://youtu.be/vxz2SONoNJg
Video of the round table presentation of the projects as Marmomac Event
The work of the student Fayuan Wang "Hexagonal Interlocking System" was transformed from a 2D tessellation to a three-dimensional interlocking system based on one module. The fabrication of the modules was conducted with a seven-axis milling robot, programming and robot processing by Florian Lapport and Pascal Malschofsky.
The project is made from the local red sandstone sponsored by the company Carl Picard Natursteinwerk GmbH in Schweinstal, Krickenbach, near Kaiserslautern, in collaboration with Martin Picard.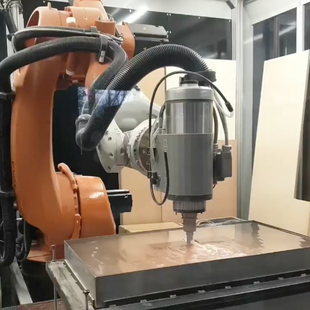 ---
Another project was developed by Arutiun Papikian also as a hexagonal interlocking system from one module. It is based on an Archimedean tessellation. The images show the development from the Archimedean tessellation, renderings of the 3D model and 3D prints of two variants.