Marseille – Côte d'Azur
Excursion of the department Descriptive Geometry and Perspective during SS 2020 (postponed)
with Akad. Dir. Cornelie Leopold, Dipl.-Ing. Romy Link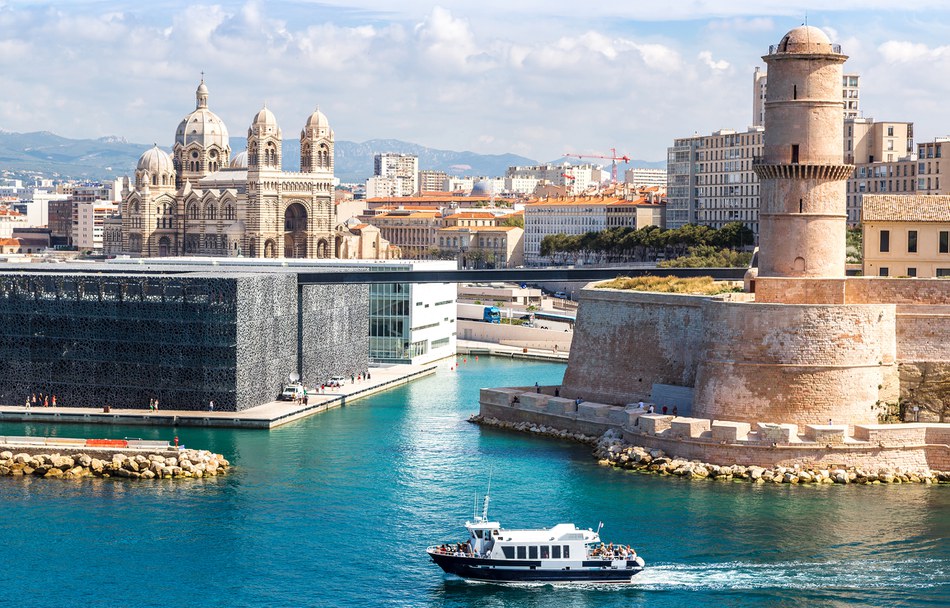 In Marseille and on the Côte d'Azur you can discover architecture from different times. Marseille, the city on the Mediterranean Sea, is the second largest city in France and an important European port city. Located in the city center, the "Vieux Port" is surrounded with old and new architecture.
The Docks de la Joliette, former warehouses at the new port, were converted for new uses in 2015.
The Cité radieuse, the first Unité d'Habitation realized by Le Corbusier between 1947 and 1952, which was developed according to his "Modulor" system, is a special item on our excursion.
In 2013, Marseille was European Capital of Culture. Some new buildings were built on this occasion, including a contemporary art center FRAC by the Japanese architect Kengo Kuma, the Musée des Civilizations de l'Europe et de la Méditerranée, MuCEM by the French architect Rudy Ricciotti, the Villa Méditerranée by the Italian architect Stefano Boeri and the Tower CMA CGM Headquarters by Zaha
Hadid Architects.
After visiting Marseilles, we plan a train ride along the Côte d'Azur to Menton, almost on the Italian border, with further architectural highlights, including Fondation Maeght in Saint-Paul-de-Vence, Villa E.1027 by Eileen Gray in Roquebrune-Cap-Martin, Jean Cocteau Museum by Rudy Ricciotti in Menton.