San Sebastián & Bilbao – Basque Country
Excursion of the department Descriptive Geometry and Perspective during SS 2018
with Akad. Dir. Cornelie Leopold, Dipl.-Ing. Romy Link
 
 
The two cities of San Sebastián (Donostia in Basque) and Bilbao in the Basque Country, northern Spain, have a lot to offer in terms of landscape, art and architecture. The easiest way to get there is via the airport in Bilbao.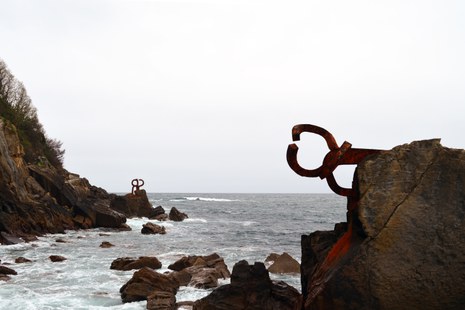 San Sebastián is fascinating because of its location on the La Concha Bay with city beaches and the rock massifs behind. The lively city is characterized by the beach promenade and a well-preserved old town. A visit to the Kursaal by Rafael Moneo and the San Telmo Museum, a museum complex on the history of the Basque Country, consisting of a former Dominican monastery from the 16th century with an extension from the 1930s and a new building by Nieto Sobejano Arquitectos, were among other things on our excursion program. Sculptures by the Basque artist Eduardo Chillida can be seen in the city - Peine del Viento (wind comb) directly on the water - and in the Chillida Leku Museum with its sculpture park in a suburb of San Sebastián.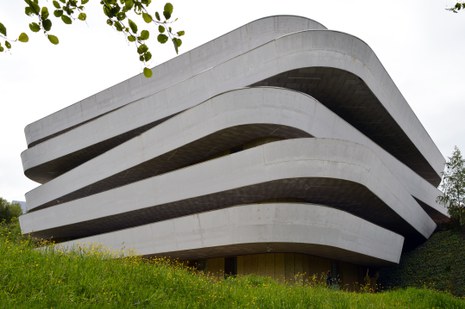 The city of Bilbao, approx. 100 km away, represents a transformation from an industrial and port city to a prosperous city of architecture and art, now known as the Bilbao Effect. This change was initiated by Frank Gehry's Guggenheim Museum, which opened in 1997. We took a closer look at Richard Serra's walk-in installation "The Matter of Time".
The Zubizuri Bridge by Santiago Calatrava Architects and a sculpture promenade are in the immediate vicinity. Many newer architectural projects have been added in recent years. But the old town of Bilbao has also been reactivated and invites you to linger.